CORRUGATED BOXES EVERYWHERE! FLATTERING TIPS FOR THE HOME ON HOW TO REUSE AND RECREATE TO YOUR ADVANTAGE!
As popularity of online shopping continues to rise, consumers around the world find themselves with a surprising, and unexpected amount of corrugated boxes stacking up within their homes!
With the "go-green" mentality of world, consumers also find themselves wanting to re-use, re-new and recycle; instead of filling up landfills with more, and more product. This article will explore the different uses for the corrugated box collection that you may have acquired!
House Hold Uses:
1. Moving.
Moving is costly, and expensive enough as it is! Save money by re-using the any boxes that you already have, instead of purchasing them from moving companies. This is can save you hundreds of dollars, and ease some of the stress of moving.
2. Organizing.
Use the cardboard boxes, to tackle the junk that has been cluttering your living space! Shipping boxes acquired during the holiday's can be great for packing up and storing holiday decorations, or even storing toys that the kids no longer use up in the attic! Label the cardboard box with a marker, for easy search and find. You could even create an inexpensive filing system for paper clutter around the home! You could even use a smaller "shoe-sized" lidded box for storing memorabilia such as love letters, birthday cards, birth announcements, and other sentimental belongings! Use a medium sized sturdy box for storage in the trunk of the car.
3. Car Repairs.
Flatten out and lay down larger boxes, under car when changing oil or doing other drippy, or messy services. Save the driveway or garage flooring from oil stains, and save your back, from cold or rocky surfaces!
4. Gardening.
Flatten out, and lay down smaller boxes and kneel on them, versus the itchy grass or "pokey" mulch. Your knees will thank you!
5. Recycling.
Instead of purchasing expensive recycling totes, simply use a large sized box (labeled appropriately)to place your recycling! You could even cut handles in the side of the box for easy moving curbside! This is recycling with recycling? How pure and simple is that?
6. Creative Projects For The Kids!
Any cardboard box can become a rainy day sensation for the little ones! A cardboard box can become anything! From a spaceship, a fort, to a puppet theater stage- let your imagination take control of this recycle, re-use idea! Multiple boxes of smaller and medium sizes can be used for stacking and encouraging the development of fine motor skills in toddler!
7. For the Pets!
Re-use a cardboard box, for the pets. An old box can be recreated into a pet bed (so long as it is shallow enough), and even birthing box for your expected pets new litter! Allow the whole family to participate by decorating with your pets name. Create a safe and warm environment by throwing in some used blankets, and their favorite toys!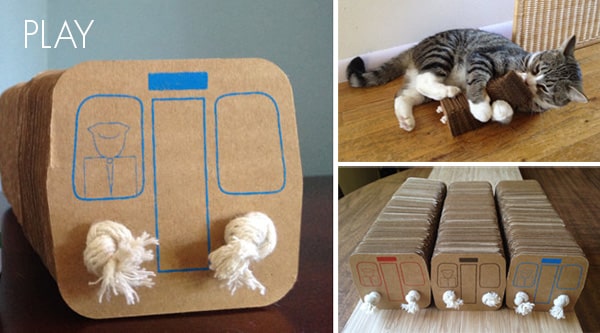 Hopefully this article inspires you to be creative, and encourages you to re-use and re-create from the corrugated boxes you have already have or may acquire!